BIRD WATCHING

Fraser's Hill is also a haven for bird-watching
with over 270 species of local and migratory
birds flocking together here.

Each year, the Malaysian Nature Society, in
conjunction with the Fraser's Hill Development
Corporation organises the International Bird
Race. This event has achieved tremendous
success, with participants from all over the
world converging at Fraser's Hill to see which
team can sight, identify and record the most number of birds as stated in the official checklist.

This world-renowned event seeks to promote Fraser's Hill as a bird sanctuary and encourages bird
watching as a healthy outdoor activity which can be appreciated by all. Fraser's Hill is fast
becoming a centre for bird watching enthusiasts.


Bird Watching Reports

Report by Tom and Marie Tarrant (aviceda@sunshine.net.au)

On Saturday September 7, we set off for Fraser's Hill and reached there in the afternoon. We checked into a rather expensive chalet-style room for one night as we were unable to stay at the Gap Rest-House until the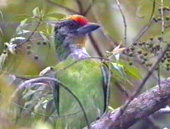 following evening. We explored the Telekom loop road in the late afternoon but were dismayed to see much 'development' proceeding, however we caught up with some interesting birds at the eastern end such as Grey-chinned Minivet (Pericrocotus solaris), Long-tailed Broadbill (Psarisomus dalhousiae) and Black-and-Crimson Oriole (Oriolus cruentus). Note: The development has since been completed.







Golden-throated Barbet
(Megalaima franklinii)

The following day we checked into the Gap Rest-House (much better value than the chalet at Temerloh) and returned to Fraser's Hill where we were fortunate enough to meet Mr Durai, an excellent birder who helps run the new Fraser's Hill Nature Education Centre near the mosque, he invited us to accompany him the next day on a birdwalk along the soon-to-be opened new road which will replace the old winding one from the Gap.
Later we walked up to the Seri Berkat Rest-House where we found a fruiting-tree, this seemed to be a magnet for various frugivorous species such as Mountain Imperial Pigeon (Ducula badia), Chestnut-Capped and Crowned Laughing-Thrush (Garrulax mitratus and erythrocephalus), Black-browed and Golden-throated Barbet(Megalaima oorti and franklinii) (which according to Durai were well above their usual altitude) we managed to obtain some reasonable video-footage and photographs of these. Unfortunately on returning the next day there were virtually no birds present.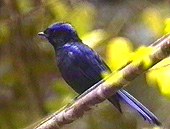 Large Niltava (Niltava grandis)

We also visited the famous (or infamous!) Fraser's Hill Tip (rubbish dump) , which can yield some excellent insectivorous species but also subjects your respiratory system to toxic smoke and all manner of unpleasant smells. Bronzed and Lesser Racket-tailed Drongos (Dicrurus aeneus and remifer) Hill Blue Flycatcher (Cyornis banyumas) Crested Serpent-Eagle (Spilornis cheela) and Golden Babbler (Stachyris chrysea) are some of the species seen on this trip and Blue Nuthatch (Sitta azurea) were seen there 3 years before.

After lunch, we took a walk along the Abu Suradi Trail near the mosque and although it was very quiet we came across a superb Bay Woodpecker (Blythipicus pyrrhotis) displaying along a fallen log. Later we went out with Durai for the walk along the new access road, with a group of other interested locals and tourists, one of the first species seen was an incredible Blyth's Hawk-Eagle (Spizaetus alboniger) which soared above us for some time against a clear blue sky; After all the smog on preceding days, a real highlight. The road development has caused much disturbance to the surrounding forest but it did enable us to get good views of White-handed Gibbon and Sultan Tit (Melanochlora sultanea) Green Magpie (Cissa chinensis) and Streaked Wren-Babbler (Napothera brevicaudata) were glimpsed briefly in thick cover.

We returned to the Gap in the afternoon and waited for dusk and the arrival of the Malaysian Eared-Nightjars (Eurostopodus temmincki) which I had seen and heard well there in 1994, they appeared briefly around 7.30pm but were difficult to see. Their call is noted as "quick-three-beers" and is easy to remember once heard.

The next day we were regaled with the calls or songs of White-handed Gibbons, which so impressed Marie that she tape-recorded them; they are certainly easier to hear than see.
I decided to try filming around the Gap, and had success with a family party of Black Laughing-thrush (Garrulax lugubris) They looked rather like glove-puppets as they displayed to each other; In the same area I was fortunate to see my first Crested Jay (Platylophus galericulatus) and Grey-throated Babblers (Stachyris nigriceps).

After about 08.30am the area became busy with traffic, probably working on the new Fraser's Hill access road so we decided to cut our losses and pack up and leave for KL. On the road to Kuala Kuba Bahru we had excellent views of a perched Crested Serpent-Eagle (Spilornis cheela) and Whiskered Tree-swift (Hemiprocne comata).



Green Broadbill (Calyptomena viridis) Scarlet-rumped Trogon(Harpactes duvaucelli)

Report by Keith Martin (Keith.Martin@esat.kuleuven.ac.be)
THE GAP / FRASER'S HILL -
Legendary birding spots and worth the trip. We spent three nights at The Gap Resthouse (very peaceful) and walked the 8km up to Fraser's Hill each day. The forest around The Gap (best seen by walking the roads) was dripping with birds such as Sultan Tit, Long-tailed Broadbill, Red-bearded Bee-eater, Scarlet Minivet, Brown Wood-owl, Gold-whiskered Barbet, Malaysian Eared Nightjar. Walking just downhill from the Gap was also excellent.. Pin-tailed Parrotfinch, Chestnut-backed Scimitar Babbler for instance. Fraser's Hill resort had a few more jungle trails and, being higher, had some different birds.. Green Magpie, Black Laughingthrush, Large Niltava,
Collared Owlet, Blue Nuthatch. Both spots well worth visiting - we had a bird list of just short of one hundred species in the three days there. But NO HORNBILLS! :( Heard one each morning, but that's no good! The most productive trails were always the roads - the only snag with walking between the sites was trying to persuade the locals that you actually WANT to walk and don't need a lift!