Operation days/hours:
Mondays to Fridays 9.00am to 4.00pm
Sundays 8.00am to 4.30pm
Saturdays and Public Holidays 8.00am to 6.30pm

The Paddock located at Jalan Valley provides ponies for novices who would like experience the pleasure of horseback riding and horses for more proficient
riders. There is nothing quite like felling the rocking canter of a horse beneath you as the cool morning air whispers past your face. It is truly an experience you will never forget.

The Paddock is situated just at the edge of the Fraser's Hill Golf Course near Fraser's Pine Resort. It was supposed to be an extension of the existing 9 hole golf course but due to serious soil erosion it has since been used as a recreation area for visitors.

The facilities here include a Horse Ride Centre, an Archery Centre and complete with restroom facilities. It is also a favourite picnic area as part of The Paddock is lined with clusters of pine forests making it an ideal setting for families to enjoy the fresh cool air in the hills.

HORSE RIDES
There is a horse stable here with 7 horses and ponies. Visitors especially children are thrilled with the pony rides here. One round of ride is RM3.50 for adults and RM2.00 for children.

PICNIC AREA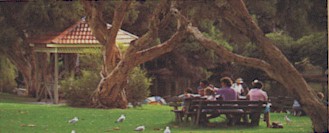 The specific area is the deeper end of The Paddock behind the horse stable where there is a cluster of pine trees. The ground has a slight slope but well turfed.
There is no charge for the use of the area for picnics but visitors are reminded to keep the place clean and to bring their own garbage bags. In Fraser's Hill, there are strict by-laws that prohibit littering, pollution and open-burning. Water for cleaning can be obtained from the rest rooms nearby.
ARCHERY CENTRE
Opening times:
Sundays 8.00am to 4.30pm
Saturdays & Public Holidays 8.00am to 6.30pm



The Archery Centre is managed by Fraser's Pine Resort and the facilities accommodate to both adults and children. There are coordinators there who will guide beginners on how to use shoot with the bow. Contrary to popular belief, archery is not a dangerous sport if proper instructions are given. Safety procedures are practised in this centre and protective wear like arm guards are provided.
It is an exciting game re-living the times of Robin Hood and William Tell. The bow has specific poundage; the ligher ones are for women. Childrens' bows are smaller. The arrows are either made of metal or fibre glass. The target is made of dense coconut husk with a coloured target face.
The rental of the archery equipment is RM10.00 for a flight of 12 arrows.
Map showing location of various facilities