FRASER'S HILL TOWN CENTRE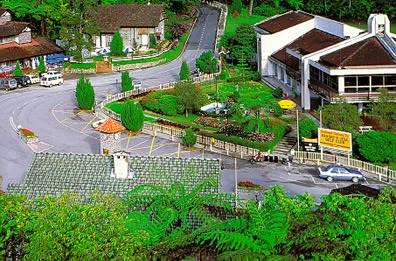 The Fraser's Hill town centre is actually a very small commercial area where there are restaurants, public facilities and markets.
The Fraser's Hill Golf Course (FHGC) Clubhouse (on the top right hand corner of photograph) houses the Par on Tenth Restaurant and Karaoke. The restaurant serves Malaysian food and opens from 8.00am to 12.00 am while the Karaoke opens from 8.00pm to 12.00 am.
The Spices Restaurant & Pub (the small bungalow on top of the photograph) opens form 9.00am to 12.00am and serves Malaysian cuisine but Indian food is their speciality. Beside the Spices Restaurant is the Puncak Inn. This is a budget inn catering to budget travellers with basic rooms in the range of RM50.00 per night.
Below the inn are a few food outlets and a mini-market. The food outlets are the Hillview Restaurant which serves home cooked Chinese food (non-halal) and opens from 9.00am to 12.00am. The restaurant is operated by the Yap family and has been residents in the hill for over 2 generations. The Arzed Restaurant & Puncak Restaurant serves Malay food and you should not miss their "roti canai" and "nasi lemak". They open from 7.00am to 10.00pm
The Fraser's Hill Mini-Market which supplies almost all daily wet and dry provisions opens from 9.00am to 10.00pm.
On Saturdays, Sundays and Public Holidays, Mahmud and Daud's Burger Stall opens in the town centre and serves sizzling burgers sandwiched in soft buns; a delightful treat in the cool weather.
Nearer to the upper Gate is the Kheng Yuen Lee Restaurant which opens from 9.00 am to 7.00 pm. The restaurant is famous for its "curry laksa" and available during weekends only. Opposite the restaurant is the Maniam Cooperative Store which also supplies daily dry and wet provisions.
At the bottom of the photograph, you can see the roof of a bungalow. This rustic stone-built bungalow is now the Post Office which dates back to 1923. It opens from 8.00am to 5.00pm except Sundays and Public Holidays. The Postmaster is En. Mohamed Abd Rahman.
Beside the Post Office is the Police Station which was built in 1919. The Officer-In-Charge is Sarjan Masara.
Opposite the Police Station is the Medical Dispensary which was also built in 1919. The dispensary is run by Medical Attendants and opens from 8.00am to 4.15pm. First aid and minor treatments are available but emergency and outpatient treatments are referred to the Raub or Kuala Kubu District Hospitals about 20km away. The Officer in Charge is En. Roslie.
Morning market
Public toilets
Fruit stalls