HISTORY OF FRASER'S HILL, MALAYSIA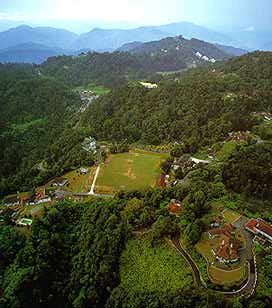 Fraser's Hill comprise of 7 hills in the District of Raub, Pahang, Malaysia
Through an engineering feat, a winding road was built weaving to the top at 1500 metres above sea level. From a small colonial hill station it is now a major tourist destination offering some of the best outdoor recreation and sports facilities.
Fraser's Hill derives its name from one of the more colourful characters in Colonial history, James Louis Fraser, an adventurer and fortune hunter. Stories about his life, included rumours that he managed an opium and gambling den that was frequented by miners.
However, in the early 1900's, J.L. Fraser vanished, never to be heard from again. Later, in 1917, a couple of clergymen rediscovered Fraser's Hill on one of their wanderings. Realising its potential as a Colonial hill station, they managed to garner enough support from the authorities to build a road linking the Kuala Lumpur - Bentong / Kuantan Highway to Fraser's Hill.
When the popularity of Fraser's Hill grew, the expatriate community at that time took to building holiday bungalows on the higher slopes to get away from the unbearable heat of the lowlands.

Fraser's Hill at one time was the playground of rich miners and planters from the surrounding areas. One of Malaysia's earliest Golf courses was constructed on Fraser's Hill in 1925 by engineer Frank Hemmant.
Cool throughout the year at average temperatures of 58°F to 65°F (14.4°C to 18.3°C), the attraction of Fraser's Hill as a tourist resort has not diminished through the years.
Today, Fraser's Hill is popular as a site for company retreats and tourists. The
golf fanatic will find enough here to occupy his day and non golfers may just
decide to while away their time horseback riding or simply strolling down the
picturesque lanes that weave through the green countryside.
The fresh mountain air is cool and invigorating and when dusk falls, the mist that
blows in brings back memories of a simple, gentle era.